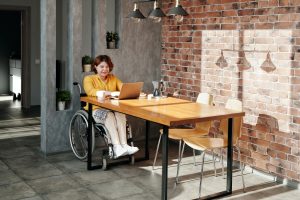 I offer in person and online appointments to suit you.  You can choose to mix and match how you would like your appointments so they work best for you and the demands of your busy, pressured life.  You receive private one to one sessions with me, either in person at the clinic of your choice or on Zoom.  We agree the appointments in advance so they are at the most convenient time and place for you.
However you decide to take your appointments, you'll have peace of mind knowing I'll be beside you every step of the way.
Online appointments are the easy and convenient option for many of my clients. It means I can see you at a time and place that suits you, wherever you live in the world.
Online therapy is ideal for people who have busy lives and don't have the time or energy to spend hours travelling to and from appointments. It is perfect for commuters, busy, working or stay-at-home parents, those who work full-time or unsociable hours.
If you live in a remote area or have disabilities, social anxiety or phobias that make social interaction difficult, online therapy means you can get the help you need from the comfort and security of your own home.
Research shows that online therapy is as effective as seeing your therapist in person1.
Many people prefer working online. They are relaxed when they start their session, as they haven't spent ages juggling complicated childcare arrangements or stuck in traffic, worrying if they're going to be late. They get the most from the sessions as they feel completely comfortable in their own home, or using a private room at work.
You don't need any special software or technical knowledge. I send you a link for you to click and then we're good to go. All you need is a computer, tablet or smartphone with a built in camera and microphone.
1 Hilty, D, Ferrer, D, Burke Parish, M, Johnston, B, Callahan, E and Yellowlees, The Effectiveness of Telemental Health: A 2013 Review, Telemedicine Journal and E-Health, 2013 Jun; 19(6): 444–454.
Online hypnotherapy groups
Online hypnotherapy groups are a practical way to try out and experience the benefits of hypnotherapy for yourself.
My online groups are a safe space where you can connect with those who have the same struggles as you do.
You'll get the benefits of working with me and the support of people who want to help and support you.  My groups are small so you get to have a personal experience.  You also have a forum to share challenges, experiences and insights.  You'll get to use hypnosis and other tried and tested tools to help you to develop a more resilient approach to life.
Starting 18th May
Overcoming overeating – hypnotherapy for food, eating and weight issues
Do you find that whatever problem you're facing food is the first thing on your mind?
If you're stressed or anxious and overwhelmed, or tired or upset, you turn to food as the solution.
Somehow without realising, has eating become the quick fix that makes you feel better for a moment, until it makes you feel worse again?
Maybe you're constantly comparing your body to other people or remembering how it looked in the past? Do you feel good about yourself only when you feel you've been "good" about eating?  Or, does your self esteem depend on you being a certain size or shape?
I can help you even if you've struggled for years with out of control eating. I'll support you to learn tools and techniques to help you. And, as a group, you'll support each other to find ways to break free of  your food prison and live life on your terms.
Here's what my clients say
It was great to finally talk to someone that understood how I was feeling. Within minutes of talking to Celia I felt she empathised with my situation and it put me at complete ease. Celia really listened to what was going on for me and tailored each session accordingly, It was fantastic to have the recordings after each session and the other resources to look through and practice. Celia has taught me so much, thank you.

Angie

I'm getting in touch to tell you that a lot has happened to me since I last saw you.  I have moved to Bromley, have a new job and partner, I only had the confidence to take these steps because of the weight I lost with you and the help you gave me. I am still using your recordings and they keep me on track if I have a slip up

Belle

I saw Celia  issues with self esteem, over eating, imposter syndrome and many other issues and Celia was amazing!

There are no tricks, my magic, just an incredibly talented individual who possesses excellent listening skills ( even when you are not actually saying that someone out loud!)

Celia gives you the tools to sit and think about yourself, what you're doing and why you may be acting/ reacting in that way and supplies you with great follow up exercises to do at home – so hypnotherapy/ mediation work during sessions.

Celia makes you feel really at ease. You feel so incredibly comfortable in her company that you just open up.

So when I start doubting myself I take a little breath, remember what I've learned and do something instead of eating my frustrations away.

Steph
The package
Are you ready to learn to let go of dieting and bingeing and to start to find freedom when it comes to food and your body?
Imagine what it's like to have a life that's no longer controlled by food and your weight.
Imagine how you'll feel when your life no longer revolves around what you eat.
Imagine how confident you'll be when you can manage your problems without turning to food
This is my three month package to help you to learn how to use hypnosis and other skills to help manage your thoughts, feelings and actions around food, eating and your weight.  You'll learn what's causing you to eat in a way that makes you unhappy and what you can do about it.  We'll create a safe space where you'll feel supported throughout your journey.
You will receive
6 x 90 minute online Zoom sessions that you can access in comfort and from home.
The sessions are held on alternate Wednesday evenings at 7.30pm.
Each session will include sharing of experiences, exercises and tools to help you.  The sessions are relaxed so you can even come in your pyjamas if that suits you.
6 audio recordings to practice at home so you can embed and reinforce your changes around food and eating as we work together.
Exercises, worksheets and other support materials so you can work through things at your own pace, and in your own home, so you have the tools to change your relationship with food for good.
Support and accountability from me and the group.
A support network to share insights, challenges and experiences and make new and lasting friendships.
Your investment
£299 for the full 3 month programme.  Special introductory offer only £247.  That's less than the cost of a weekly takeaway for the 3 months you're taking the course.
Places are limited.  Please contact me for more information.
You can book your place directly here